A week after I had successfully climbed my first multi-pitch in Tahquitz, I got a random call from my friend Allister. He was calling to see if I would be interested in climbing up  Half Dome (in Yosemite) through the Snake Dike (5.7 R) route. Allister's original partner had bailed because he did not feel comfortable with the challenges involved in the climb, so I was the next climber lined up to take his place.

The route involves slab style climbing-which means the rock is flat and almost featureless. Climbing this terrain means I would have to rely mostly on my feet to ascend because there are not many features that I could use to grab onto. Since slab routes are at a low angle, falling would surely give me more than a few scrapes and bruises. Despite the challenges, I felt confident I was skilled enough for the journey.  Besides, I couldn't pass up on the opportunity to visit Yosemite again so I accepted the invitation. Little did I know, I was about to get myself into a tough and unforgettable adventure!
Crazy start schedule
We left Los Angeles at 5:45 PM and arrived to the campsite just after 1:00 AM. The plan was to sleep in the car and then begin hiking to Half Dome/Snake Dike upon our arrival. Allister and I had difficulties sleeping on the ride there so we had to go to plan b. We ended up sleeping in the parking lot near the trail head until 4:30 AM. When Allister and I woke up, we quickly ate our breakfast, packed our bags and was on the John Muir Trail by 5:30 AM.
Getting lost
Allister and I blazed quickly through the John Muir Trail and then the Mist Trail. We arrived to Little Yosemite Valley by 7:45 AM. The beginning of Little Yosemite Valley is where one of the recommended off-trail approaches to Half Dome begins. Allister and I had trouble identifying the starting point of our off-trail hike and we wasted a lot of time trying to locate the start.
Through my research, I had researched there would be carins (human-made pile of rocks) at the start off the climber's approach however we didn't see any near the Mist Trail. Finally, around 9 AM, we identified an unofficial trail that climbers have created and the carins confirmed we were walking in the right direction.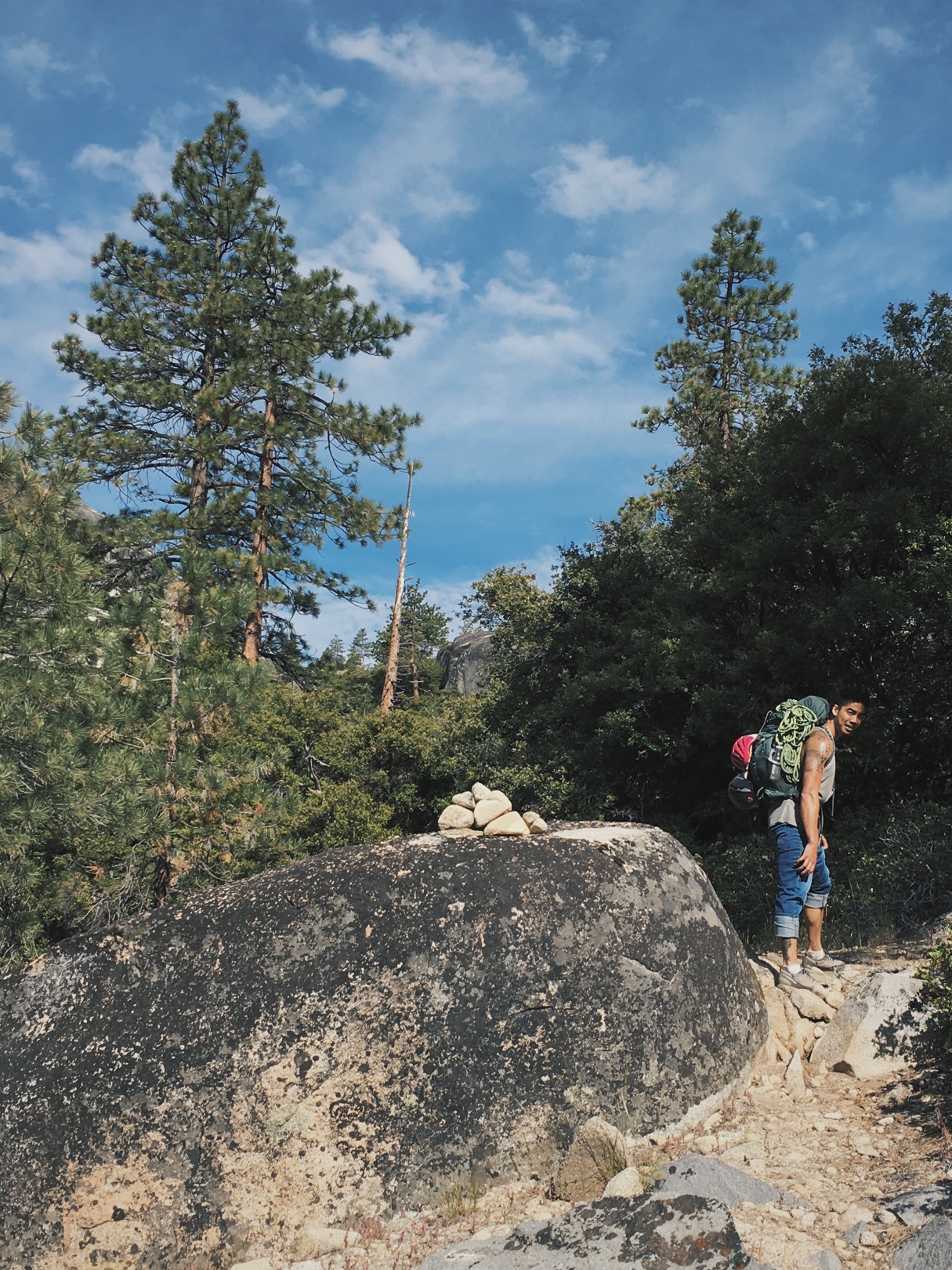 Carins helped guide us through the backcountry
Not mentally prepared
I was mentally unprepared for the challenges ahead of us. I had underestimated the off-trail hike. I thought the hike/approach would be a gentle walk, with the possibility of intense scrambling. I WAS WRONG. Allister and I walked on rough terrain for hours. We scrambled from the very beginning, whack bushes, hopped over fallen trees, fled from armies of mosquitoes, slowly tip-toe away from 2 rattlesnakes, crawled through a few tight spaces, and scraped up and down more rocks than I care to remember. To make matters worst, most of the time we felt lost since the trail was not always clear.
Getting lost again and trying to save time
Allister and I got lost again because we veered too far left from the Lost Lake. From our position (exactly left of the Lost Lake), we were supposed to head North, but we kept walking left and then went diagonally up. Eventually Allister and I found our way to the base of Half Dome, however there was long slab section in our way. I recommended that we correct our course by walking to the right and then scramble up, however Allister insisted that climbing up the slab (without protection) would be faster. I didn't think it was a good idea, but since I was tired and Allister was the leader, I decided to follow his lead.
Poor decisions on slab
I easily walked up the first half of this long slab section with my trusty Ahnu Montara hiking boots. Eventually I reached a section where I had to put on my Five Ten Anasazi LV VCS to ascend. After completing what felt like a pitch, I reached a nice ledge to take a break on. This is where things got sketchy. I looked up and the slab section above us was STEEP. Allister and I had clearly underestimated this section. We tried to traverse or ascend up, but it was difficult because our heavy packs weighed us down.
Staying calm and getting creative
I was a little distressed because this was my first time being in serious danger while rock climbing but I told myself to remain calm.  I took a deep breath, gathered my thoughts and started to think about solutions. I knew my climbing abilities were not strong enough to continue climbing up so I had to figure out a way back down. I thought "okay, we have gear, we're on a safe ledge, I can see another safe ledge below us…okay how do I get down to that ledge safely?" At one point, I considered scooting down on my butt however Allister was uneasy at the thought of me even attempting that so that idea got nixed.
After thinking hard about how to get out of this mess, we decided that Allister would be my anchor while I rappelled down to the next ledge. Lucky for us, there were multiple ledges to latch onto where we were stuck. Since we were on slab, Allister was able to lay his body against the slab. While laying on the slab, he locked off his arms on the top ledge and pushed down on his feet to lock himself into the lower ledge. Now that Allister was locked in, I was ready to use him as an anchor to rappel down. I lowered myself slowly and steadily to avoid pulling Allister off the wall.
I smoothly made it back down to the ledge and Allister attached his backpack onto the rope with a carabiner and slid the backpack down towards me. Now that he didn't have the weight on his back, Allister planned on continuing to climb up the slabs. He couldn't do this before because his pack was too heavy. I wasn't comfortable with him doing this, but before I could object, he was moving up.
I wasn't sure if he was going to safely make it up and I held my breath while watching him climb. Eventually I was too miserable from watching him climb up the dangerous slabs that I just looked away. While Allister was climbing up I traversed on my ledge to the right and made it off the slabs. After a few minutes I looked up and didn't see Allister. I looked down and didn't see him on the ground so that meant he had made it past the slabs. I didn't want to start screaming to get confirmation that he was okay because I didn't want to distract him if he was still concentrating on climbing. I held my breathe for a few more moments and finally I heard him tell me that he was okay. What a relief.
Allister looking disappointed  because we decided not to climb up Half Dome. Hehe sorry had to post a pic.
Calling off climbing Snake Dike
After Allister made it to the base of Half Dome, he hiked back down through a safer path to meet me and his pack. He wanted to press on with our adventure but I was hungry, tired, and going through shock. I assessed myself to see if I was in good shape to climb up Snake Dike and just thinking about climbing made me feel sick inside. It was hard, but I decided to call off climbing Snake Dike to be safe and live to climb another day.
How we failed:
Not enough sleep – We only had 2 hours of sleep and I believe this affected our ability to make good judgements. Always try to get at least a decent night's rest the day before a big adventure.
I didn't research the trail well enough and got lost
I didn't dress properly – I wore my yoga capri, which I found out is terrible for back country traveling and hard approaches. Not wearing the right pants made it difficult to comfortably and quickly climb through bushes and rocks. Make sure you wear hiking or rock pants if you're going to climb up Half Dome!
Over packing – Allister and I were strategic about the weight of our climbing gear but not so smart about over packing food and water. Over packing weighed us down and made us really tired.
Made poor decisions – We climbed up the slabs near the base of Half Dome which we shouldn't have. This costed us valuable time and energy.
Bringing too much water when we should've just used a water filter to refill water.
Relying on the carins – Allister and I relied on the carins to point us the way and many times, this caused us to walk too far past where we were supposed to go.
I'm standing on the base of Half Dome in this photo. Look at the view of Yosemite Valley behind me!
Even though I failed at climbing up Snake Dike, I think the adventure was worth it. I learned plenty from my mistakes and I will be able to apply my new knowledge to future trips. Have you climbed up Half Dome by way of Snake Dike? Tell me about your approach and leave suggestions on the best way to go below!
More photos from my adventure to Snake Dike: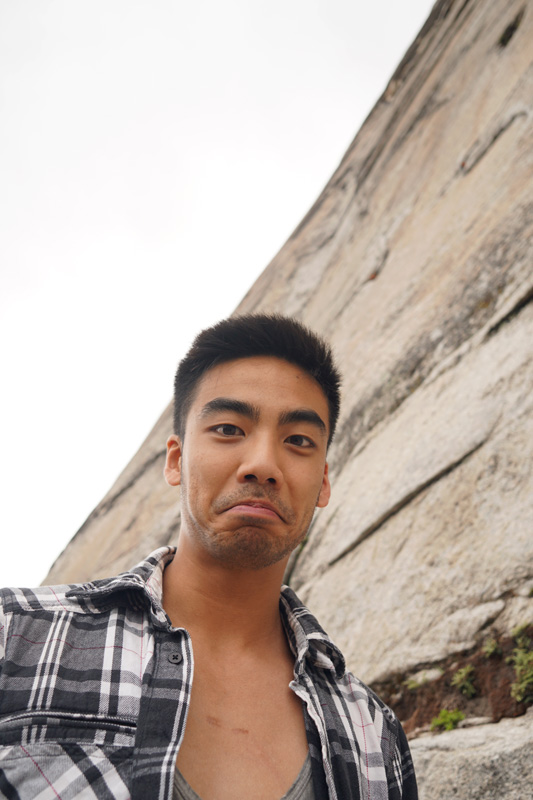 Allister with a sad face because we didn't climb up Snake Dike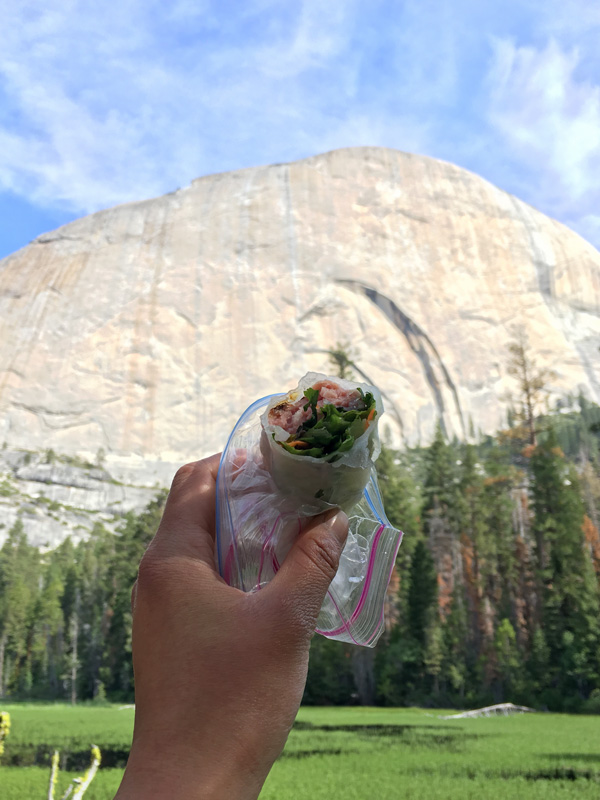 My spring roll matches the colors of Yosemite Valley!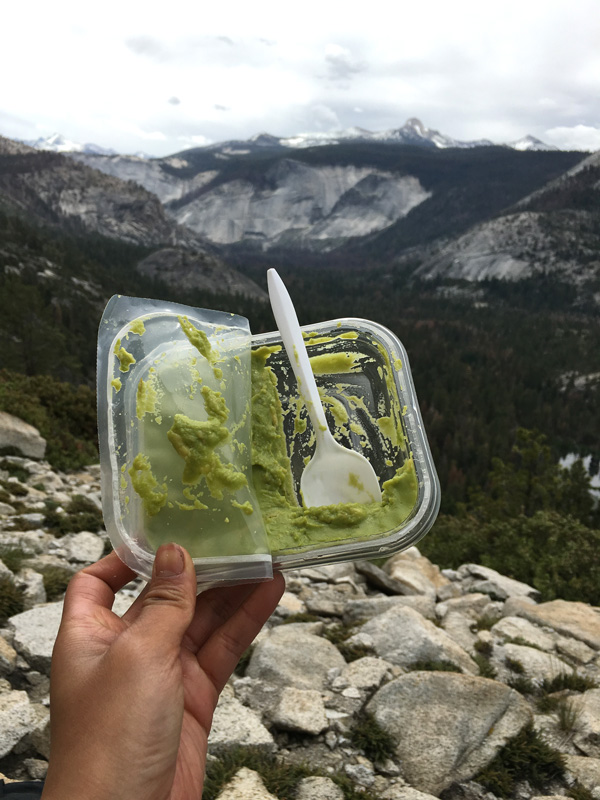 Having some guacamole while staring at this breathtaking view. Can't complain.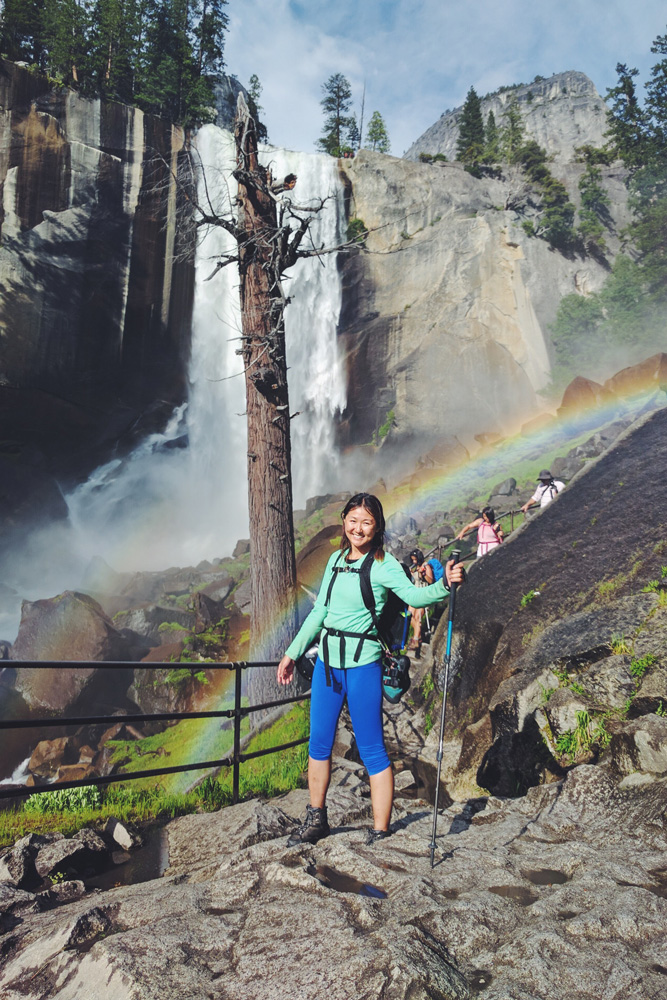 Walked through a rainbow at the end of our journey!