Last weekend I visited Death Valley National Park. If you're looking to visit Death Valley National Park soon for a short tip, you'll definitely want to read this blog about my travel plans, tips, and see photos! I will go over the places I visited, Furnace Creek Campground, snacks, gear, packing list, clothes and food!
Mesquite Sand Dunes
First stop on our short weekend trip was Mesquite Sand Dunes. These sand dunes are the most popular dunes to visit in the park due to their easy access through HWY 190. Once you arrive to the parking lot, you only have to walk a few feet before your shoes touch the sand. You can enjoy the beauty of the sand dunes from the parking lot or you can hike in and walk on the sand dunes. The best time to visit the dunes is sunrise or sunset as the sun rising and setting dramatically emphasizes the lines in the sand. Plan to spend 15 minutes – 1 hour here to create photographic memories.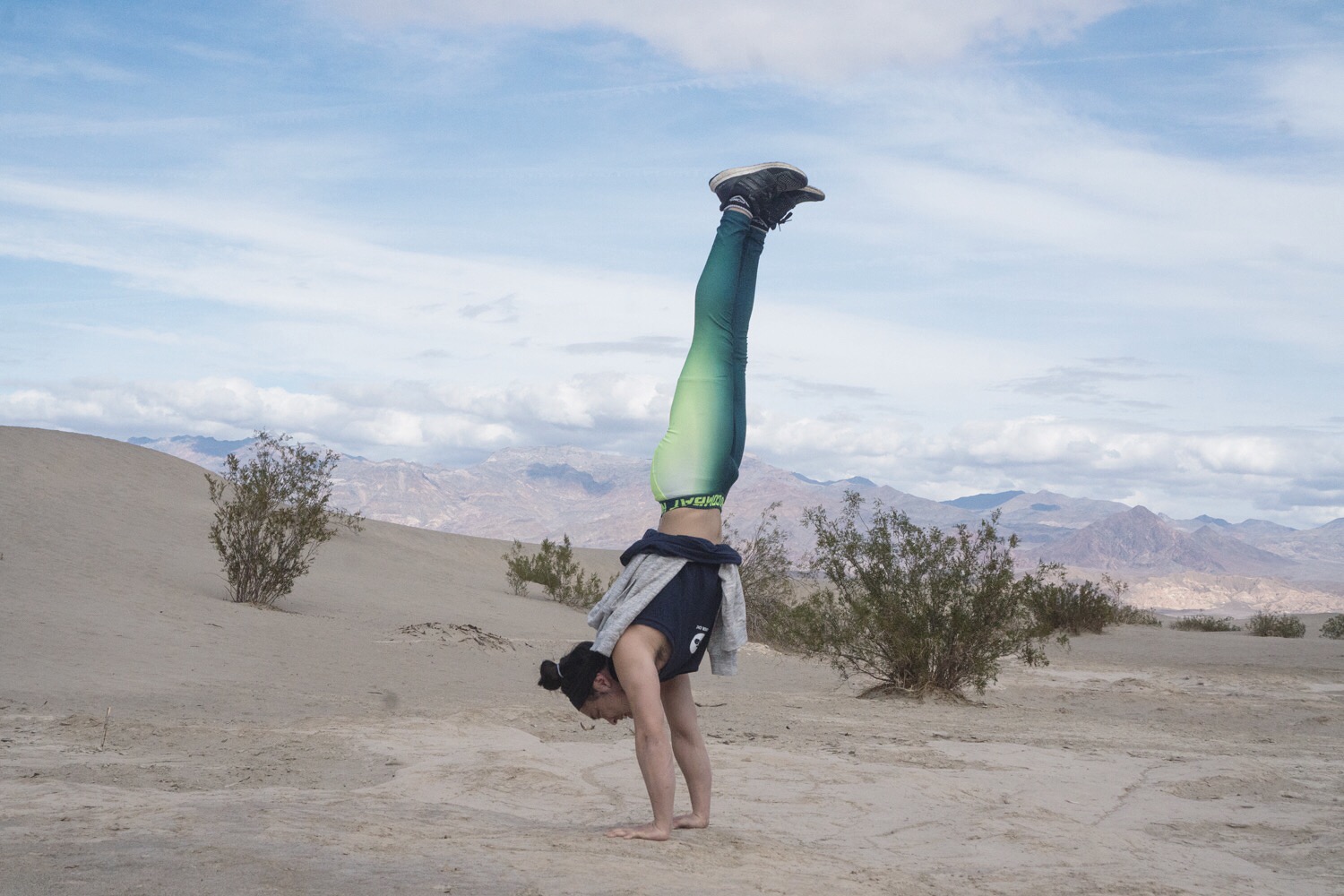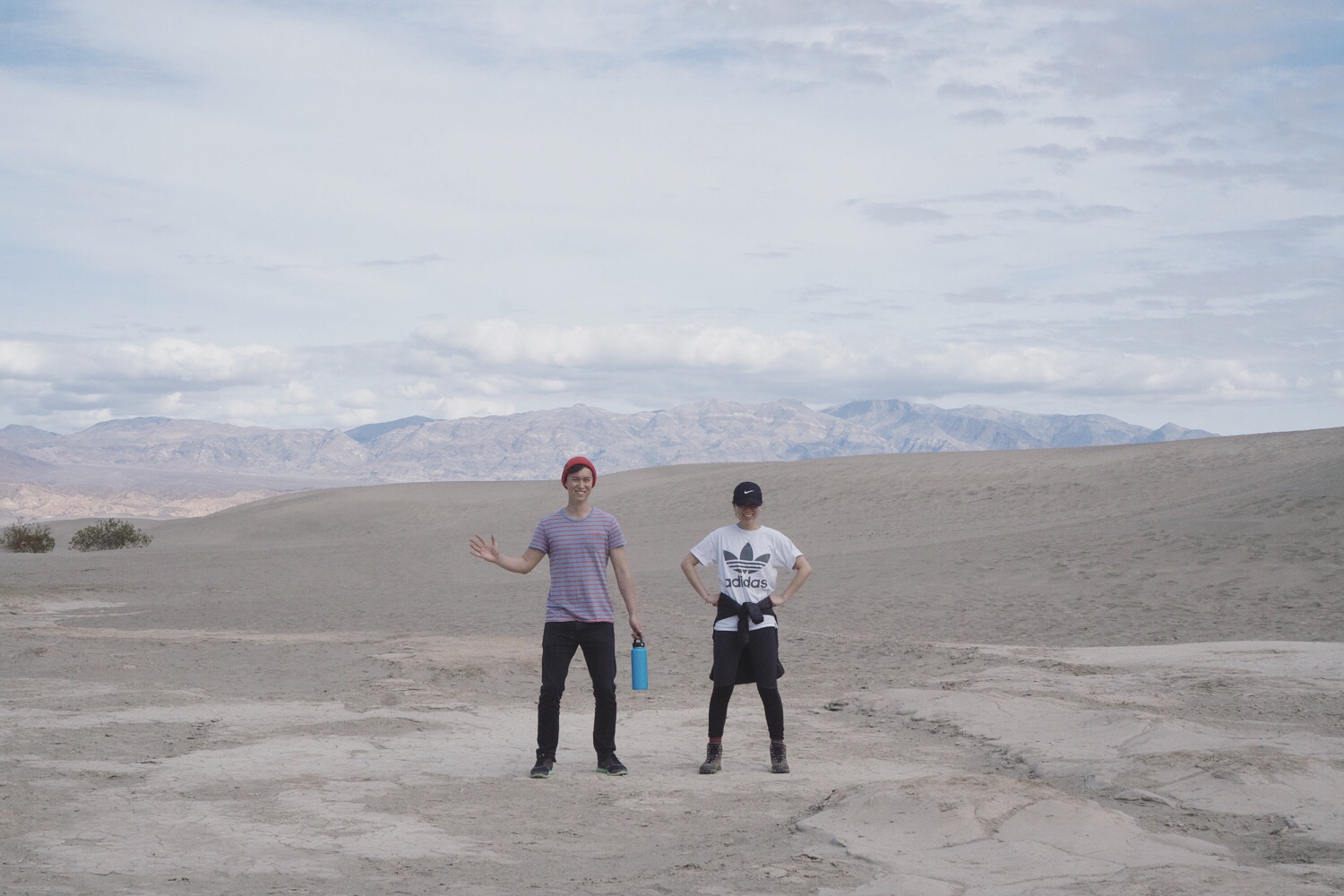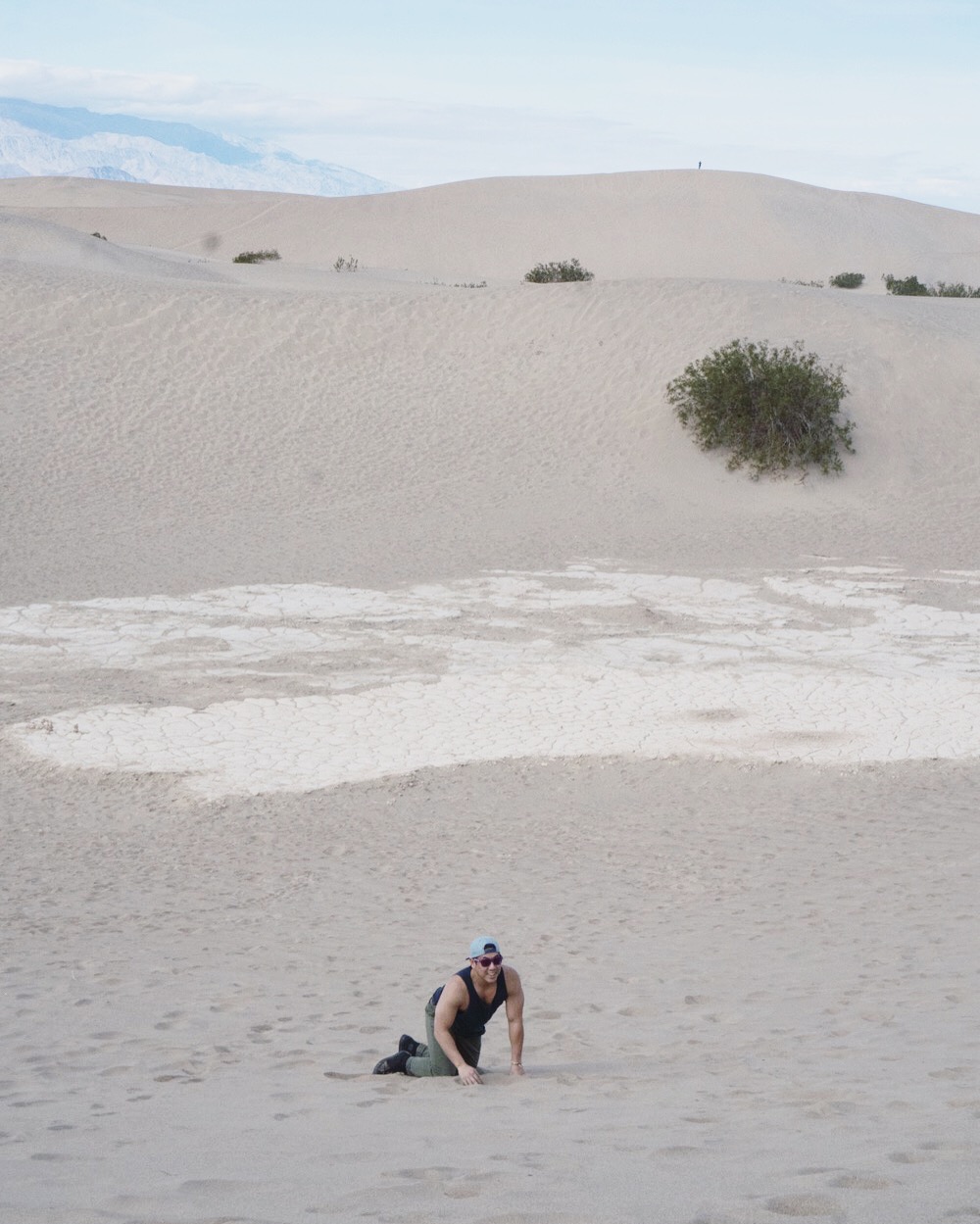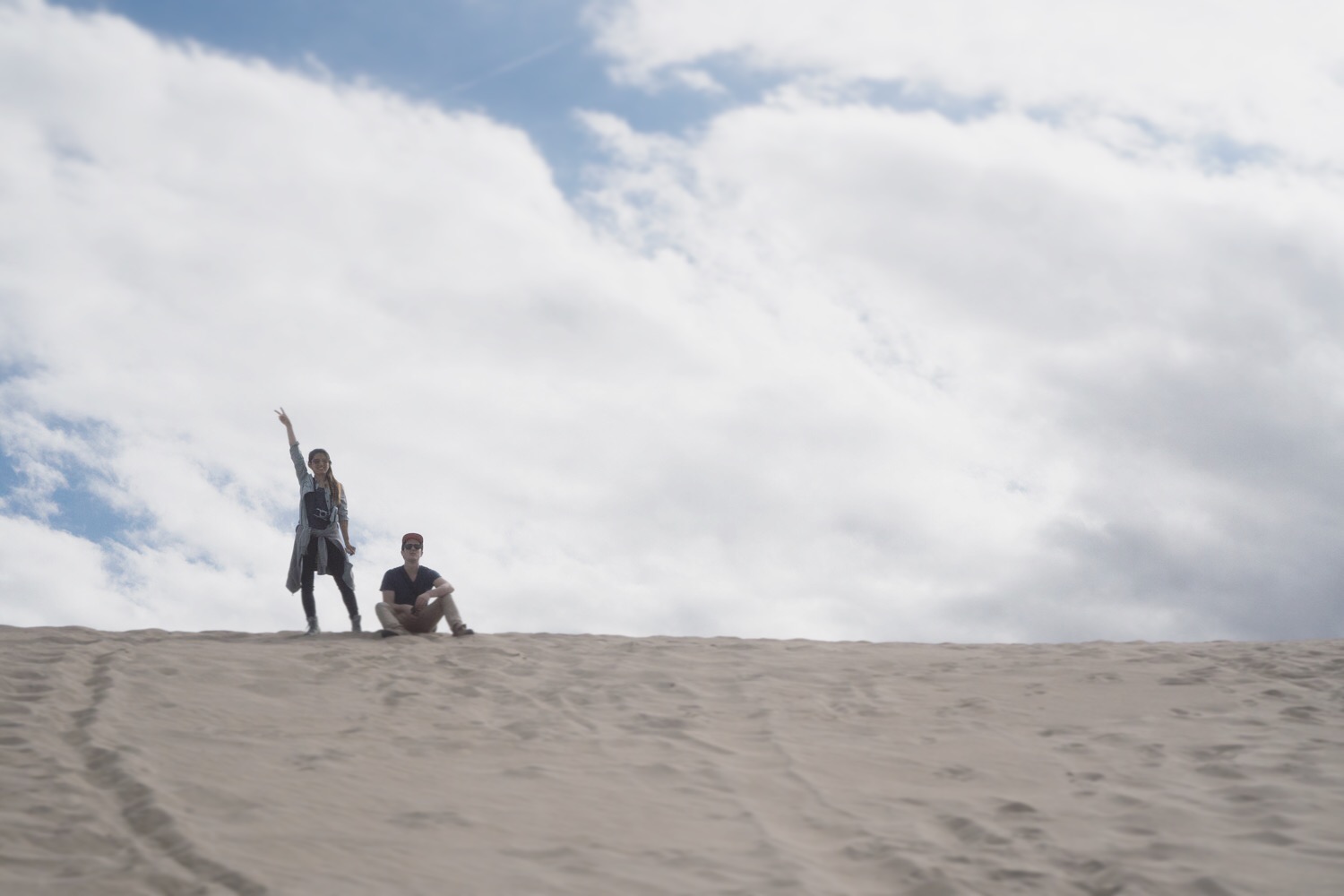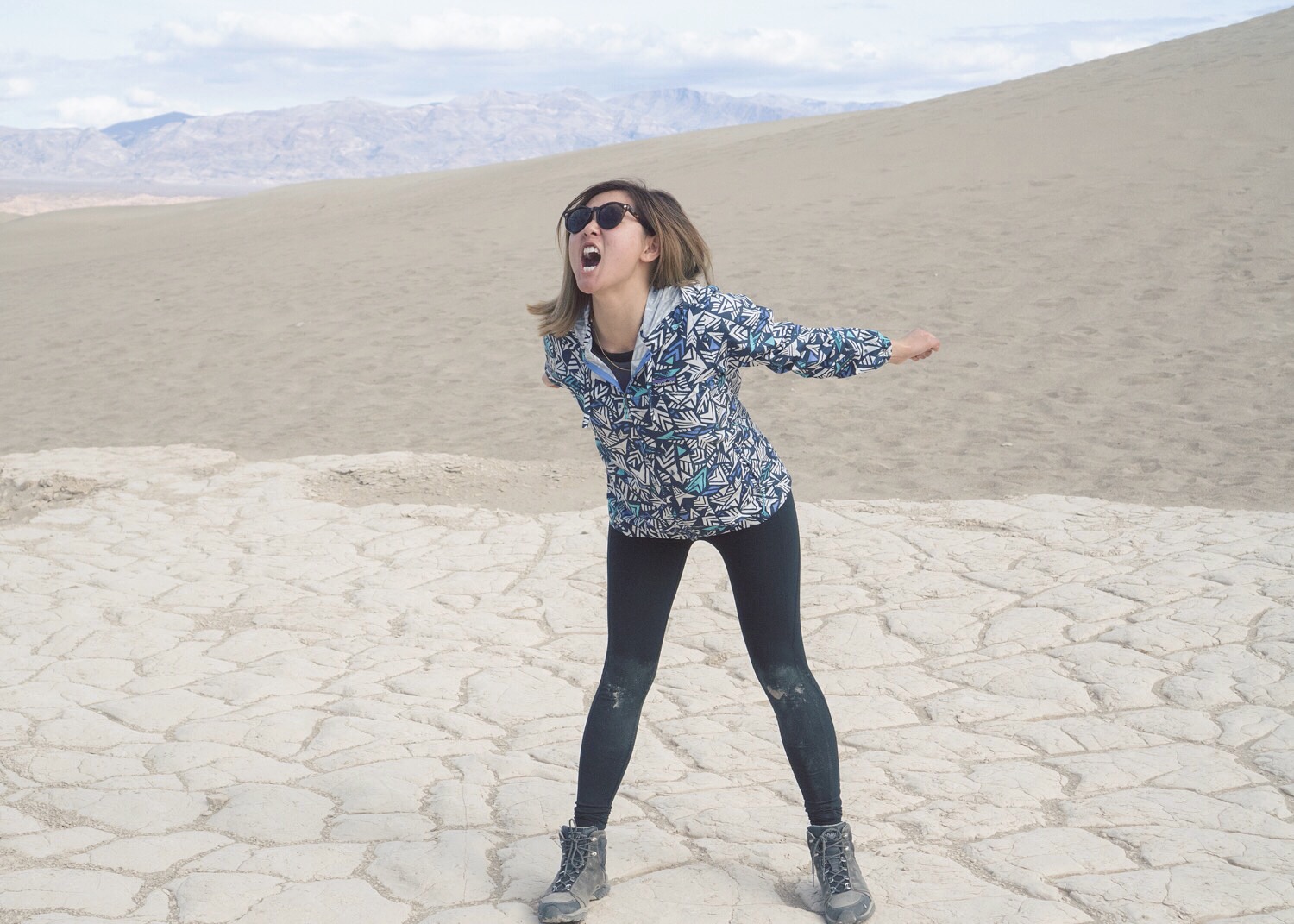 Golden Canyon to Red Cathedral
It's easy to see why they call this place Golden Canyon. Right when you enter the canyon, you'll find yourself immersed within an epic golden landscape. Most of the walk is in the glaring sunlight but you'll find pockets of shade along the way. Do bring at least a bottle of water and sun protection for this hike. The hike is about 3 miles long and should take 1.5-2 hours to complete. This is mostly an easy-going hike but towards the end it will become a little bit more demanding.
Reaching the Red Cathedral requires some rock scrambling and a careful walk on loose terrain as you strive to the top. Once you encounter those towering red walls, I strongly encourage you to keep going up that hill and be rewarded with a breathtaking view overlooking Death Valley!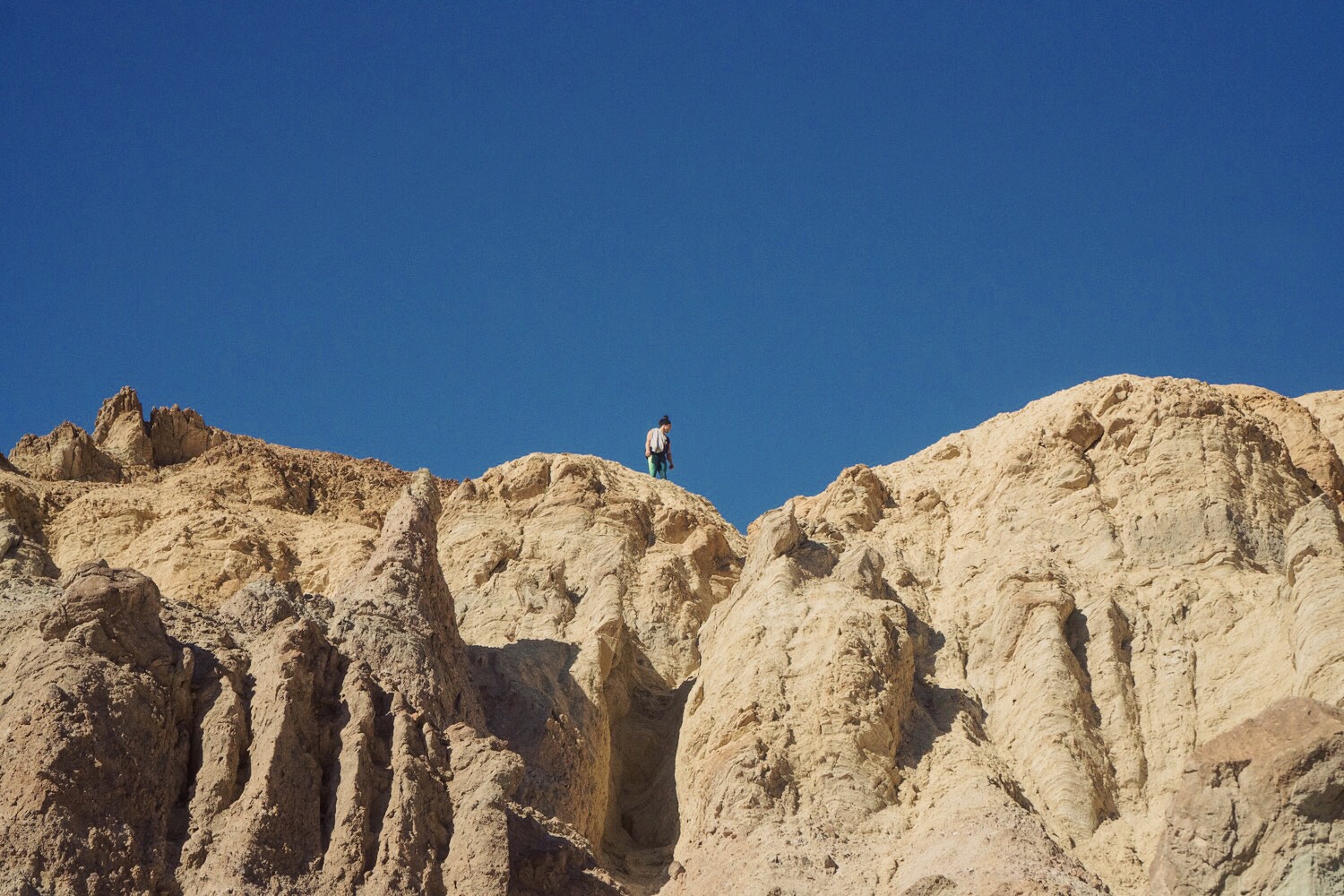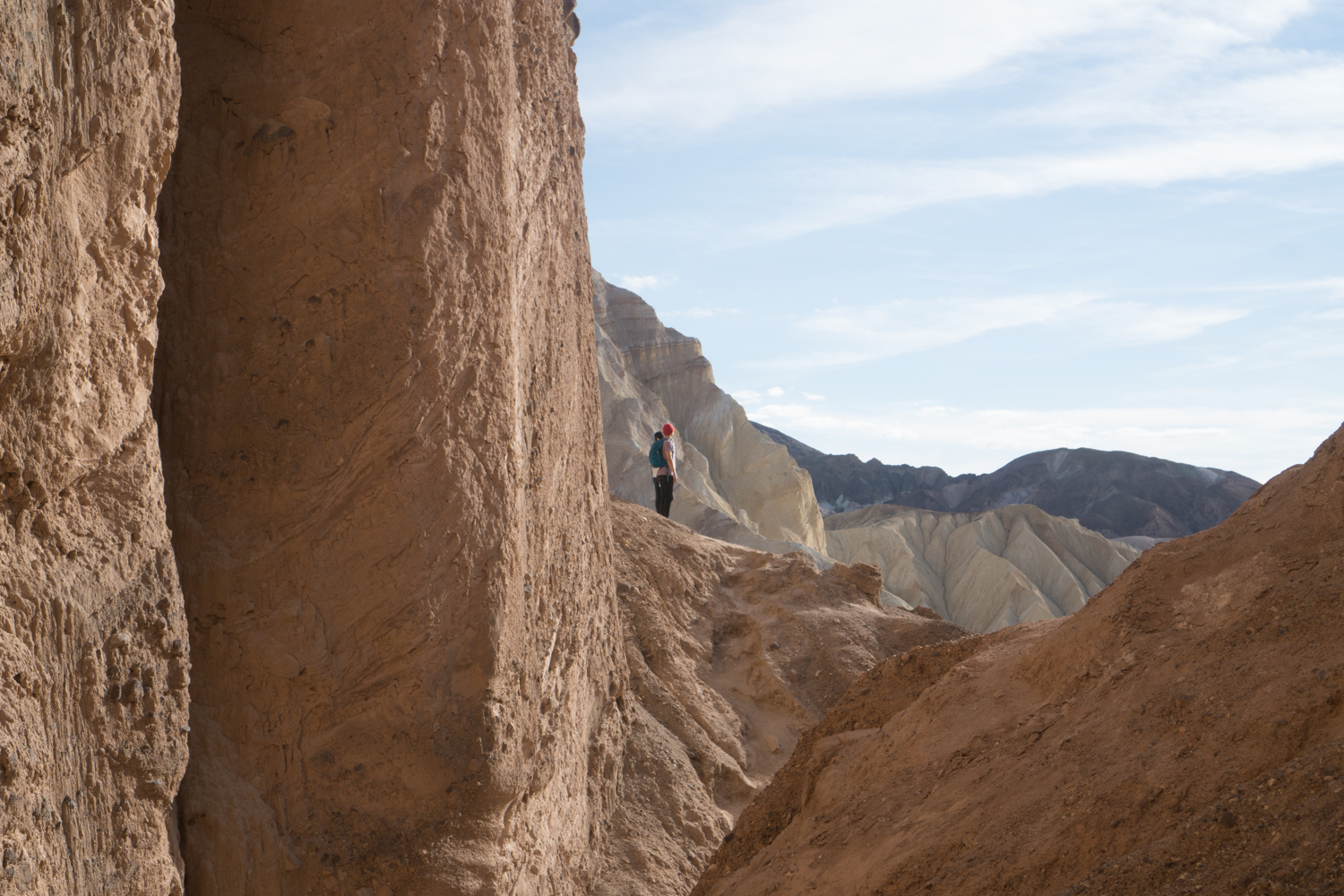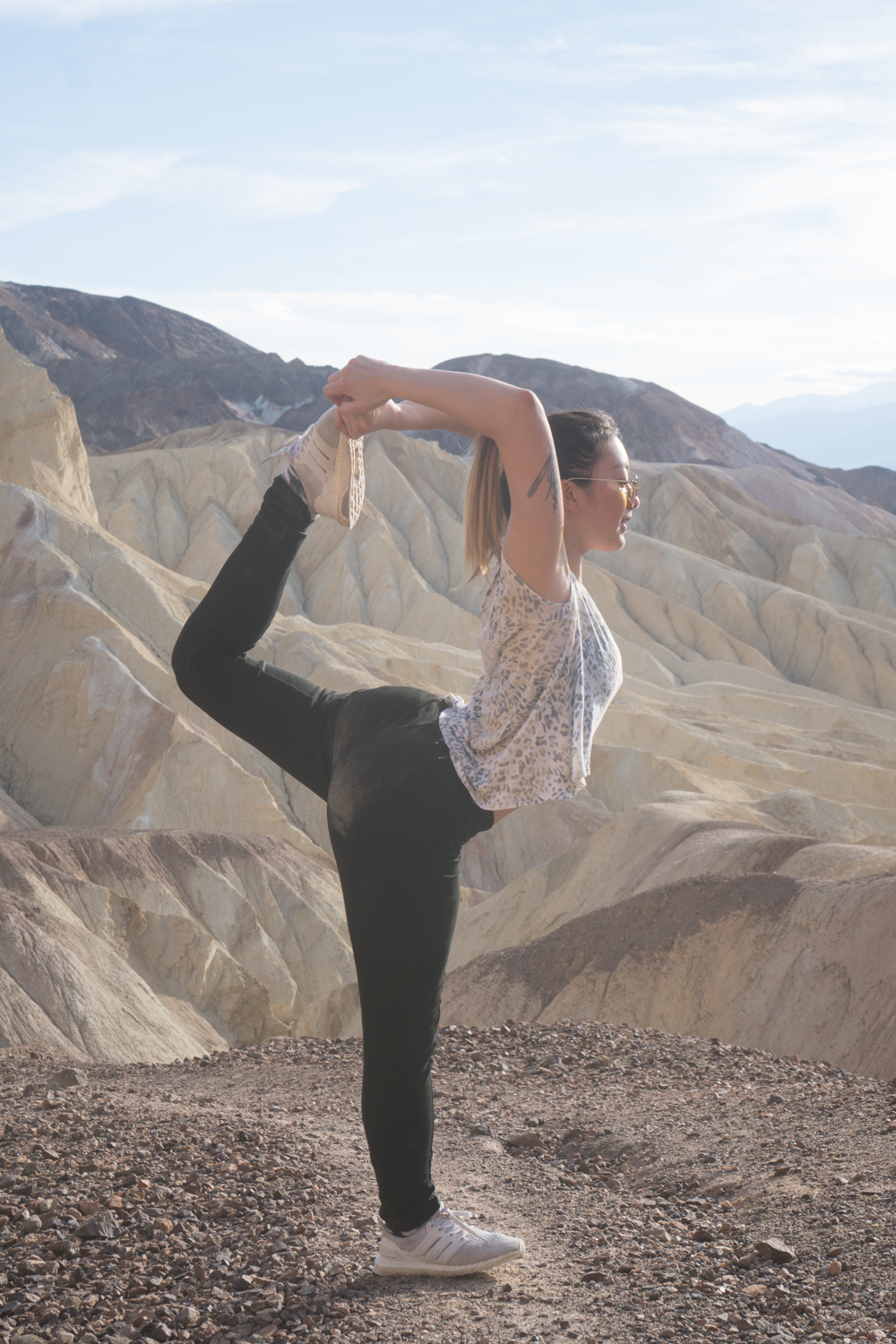 Badwater Basin
This basin is the lowest point in North America and contains 200 square miles of stunning salt flats. Easily accessed from Badwater Road, you will find another excellently located parking lot which provides a lovely view of the unique scenery. If you want to capture the view at its best-visit during sunset. At this time you can witness the tired sun reflecting off the salt flats-resulting in a dreamy magenta landscape. Plan to spend 30 minutes to 1 hour here to take photos.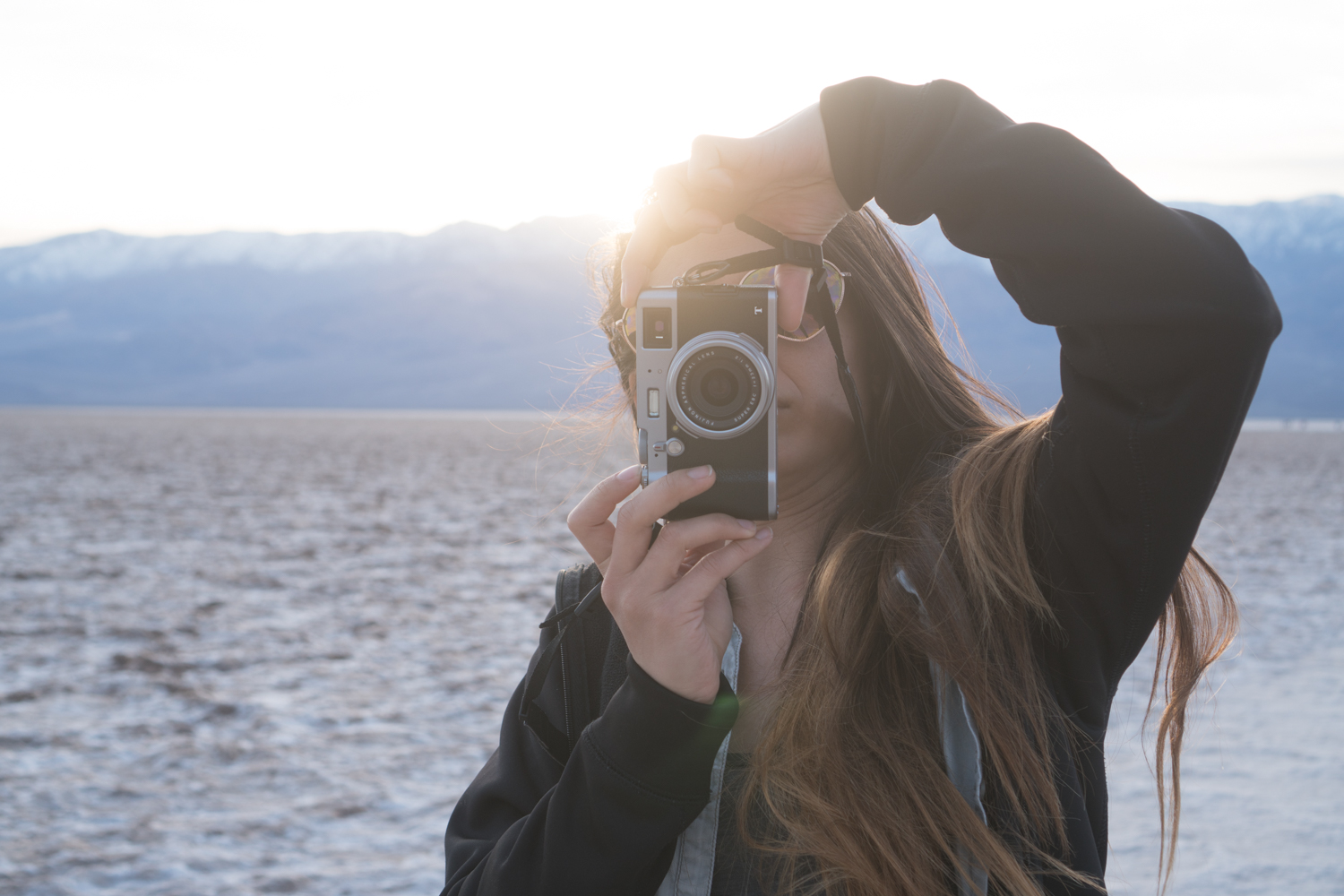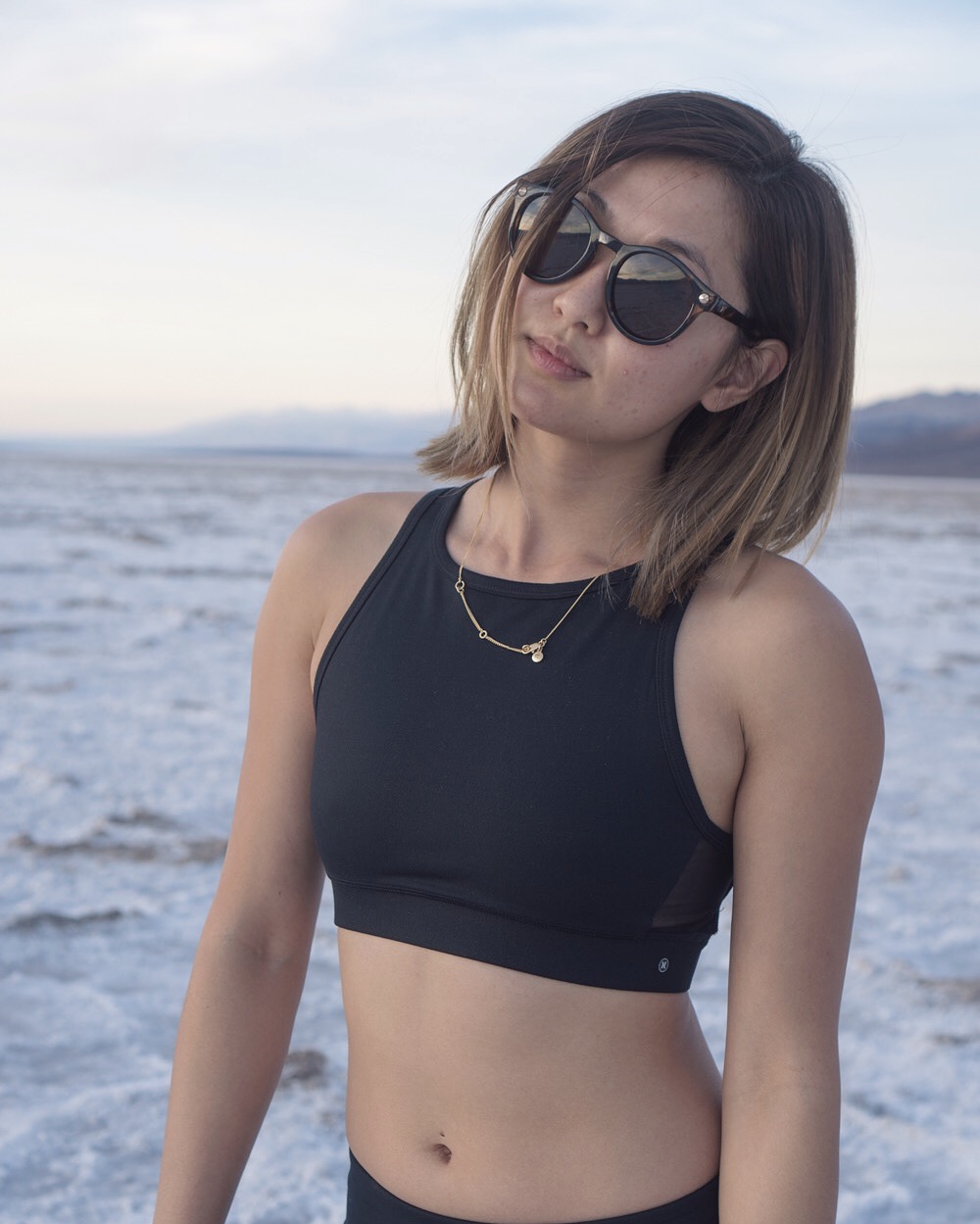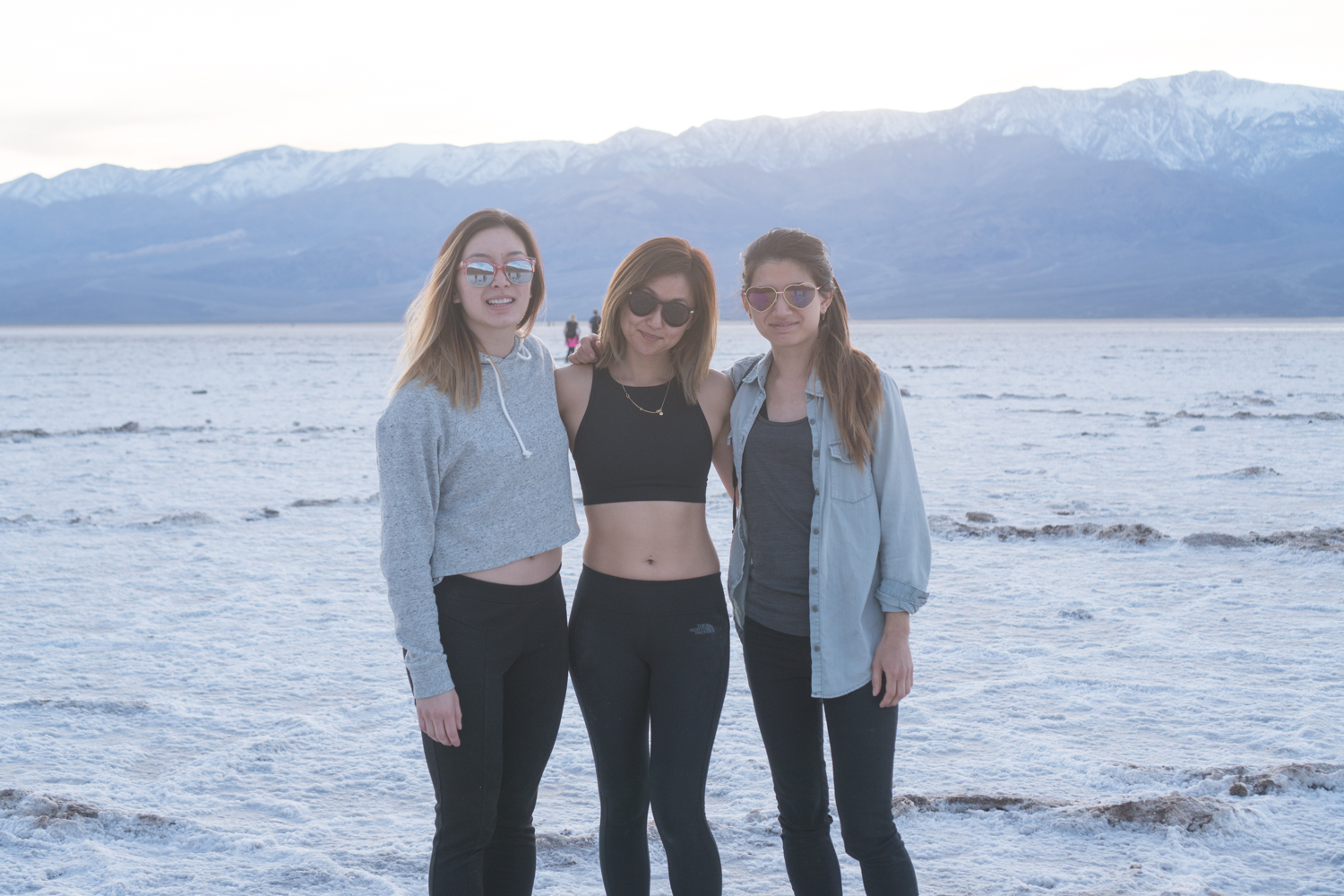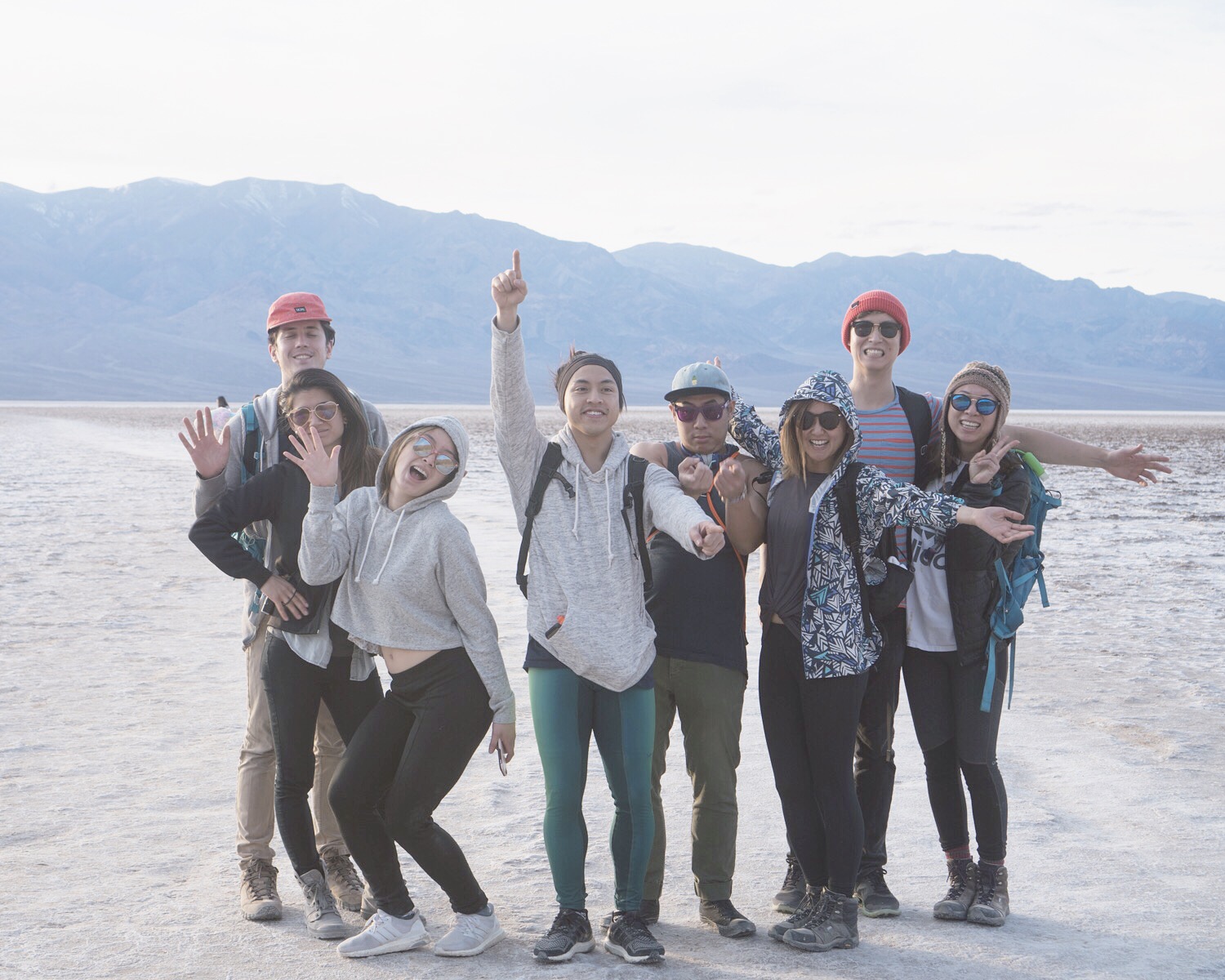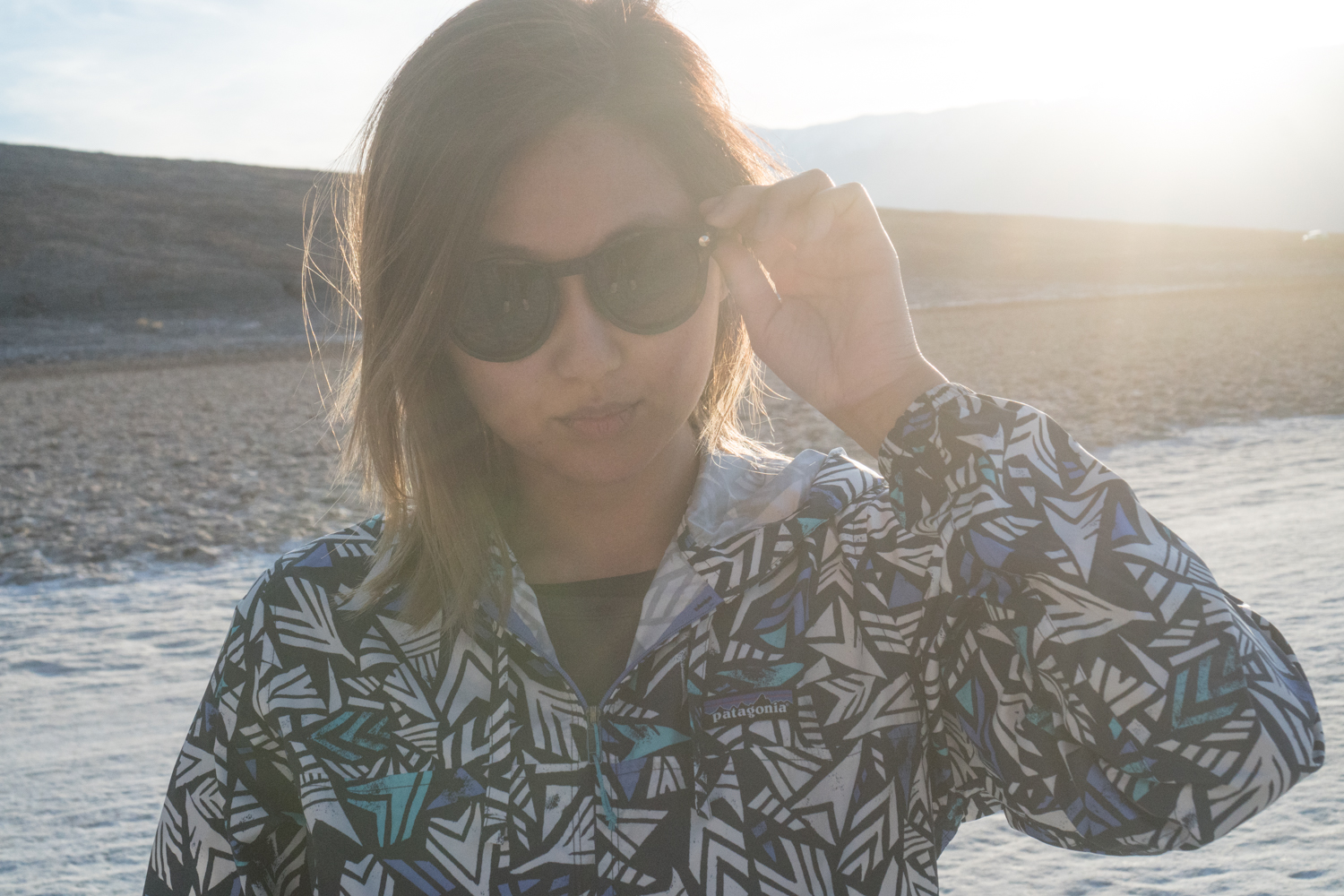 Furnace Creek Campground
I reserved a group camp site 5 months in advance at Furnace Creek Campground through Recreation.gov. Our group camp site fit up to 15 people and up to 3-4 cars (online said the site only fits 3 cars, but it actually had room for 4). There was a fire pit and two picnic tables for us to use.
The campground itself was very well maintained but wasn't the most scenic campground I've ever stayed at. Some of the campsites were located in what looked like a parking lot and some sites were located next to dry trees.
With regards to other amenities- the site had bathrooms but I couldn't spot any showers. There was also a large sink situated beside the bathrooms for dish-washing and other uses. A camp host was present to help visitors with any problems or queries.
If you're in need of food or things, there is a restaurant and general store located down the road next to the Visitor Center. Convenient right?
Camping fee for two nights was $70.
Snacks:
For snacks we packed: Kind bars, bananas, beef jerky from Trader Joes, Quest Bars, Probar BOLT energy chews, tortilla chips, salsa, guacamole
We made sure to have a good mix of salty and sweet snacks to keep us well-nourished for our adventure!
Food:
Breakfast: Sausages, eggs, hash browns, coffee, and bacon
Lunch: Turkey, salami, avocado sandwiches
Dinner: Trader Joe's Tikki Marsala and Mountain House freeze-dried food
Beer: Modelo and Hef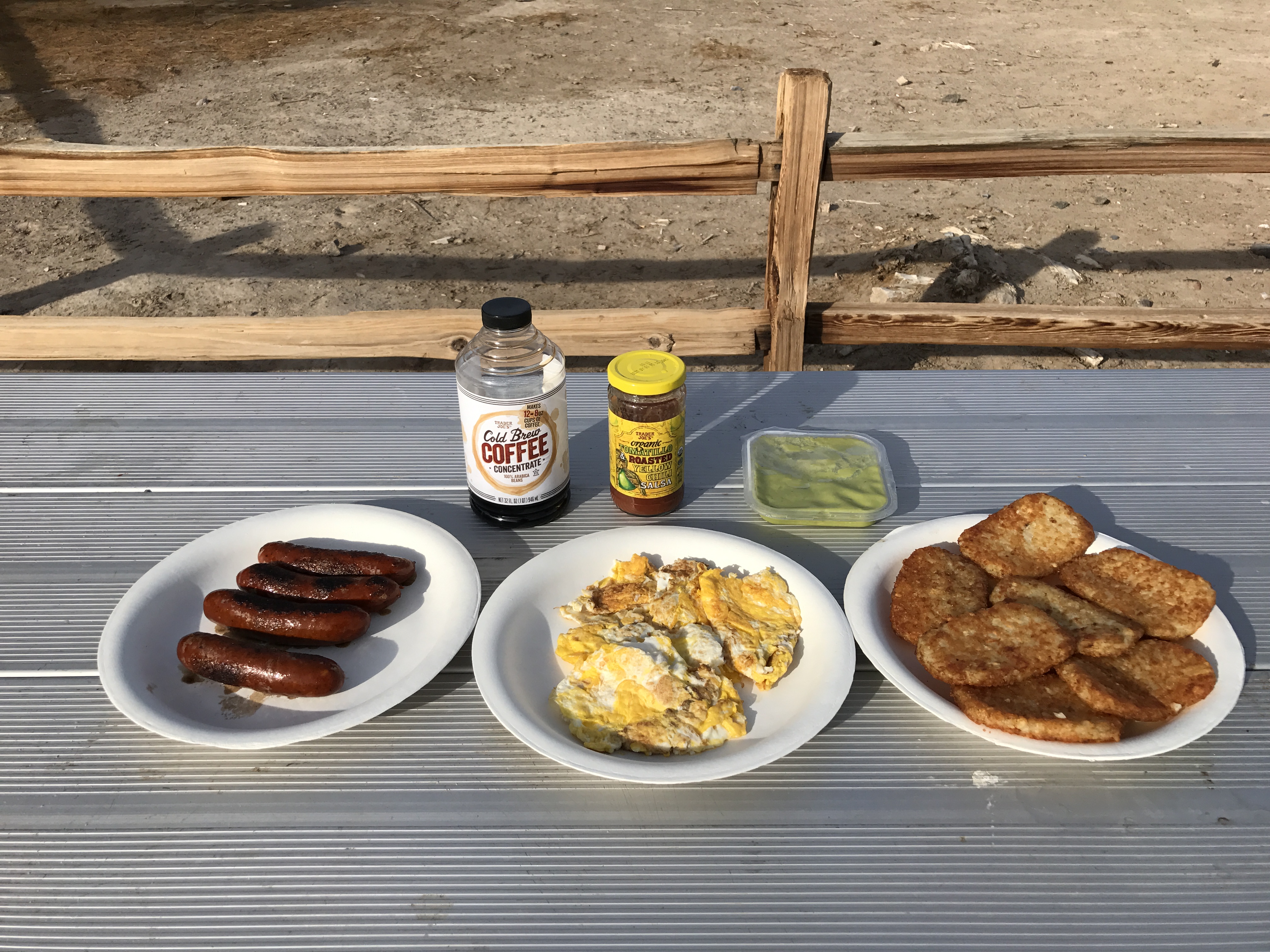 Cooking Ware/Gear:
2 burner stoves, 1 jet boiler, 2 single burner stoves, propane, spatulas, fork, spoons, paper towels, dish soap, frying pans, Ziploc bags, foil, cups, lighters, sponge, cooking spray, cooking oil, and knives.
Camping Gear/Stuff:
Tents, sleeping pads, sleeping bags, camping chairs, lanterns, speaker, first aid kit, baby wipes, hand sanitizer, firewood, and headlamps.
Recommended clothing:
The weather was around 75 in the day and 55 at night. In the day time I wore my Light and Variable jacket from Patagonia to protect me from the sun-rays. The jacket's material is rated at UPF 50 and protected my skin from sunburn. Since we were going on short and easy hikes, the crew mostly wore casual clothes instead of technical wear.
We didn't walk through any difficult terrain so most of us just wore casual sneakers instead of hiking boots. I opted for hiking boots since I didn't want to ruin my nice casual sneakers.
At night most of us wore mid-layer jackets, a beanie, and pants. It definitely was not cold enough to wear gloves. I recommend rocking some sweat pants at night or long socks.
Visit Death Valley National Park this Winter/Spring
Now that you have my game plan for a quick and easy trip through Death Valley, plan your trip before it gets too hot to hike in Death Valley! Temperature starts to rise to the 90s in April. Visit Death Valley while it is still cool. GO GO GO!